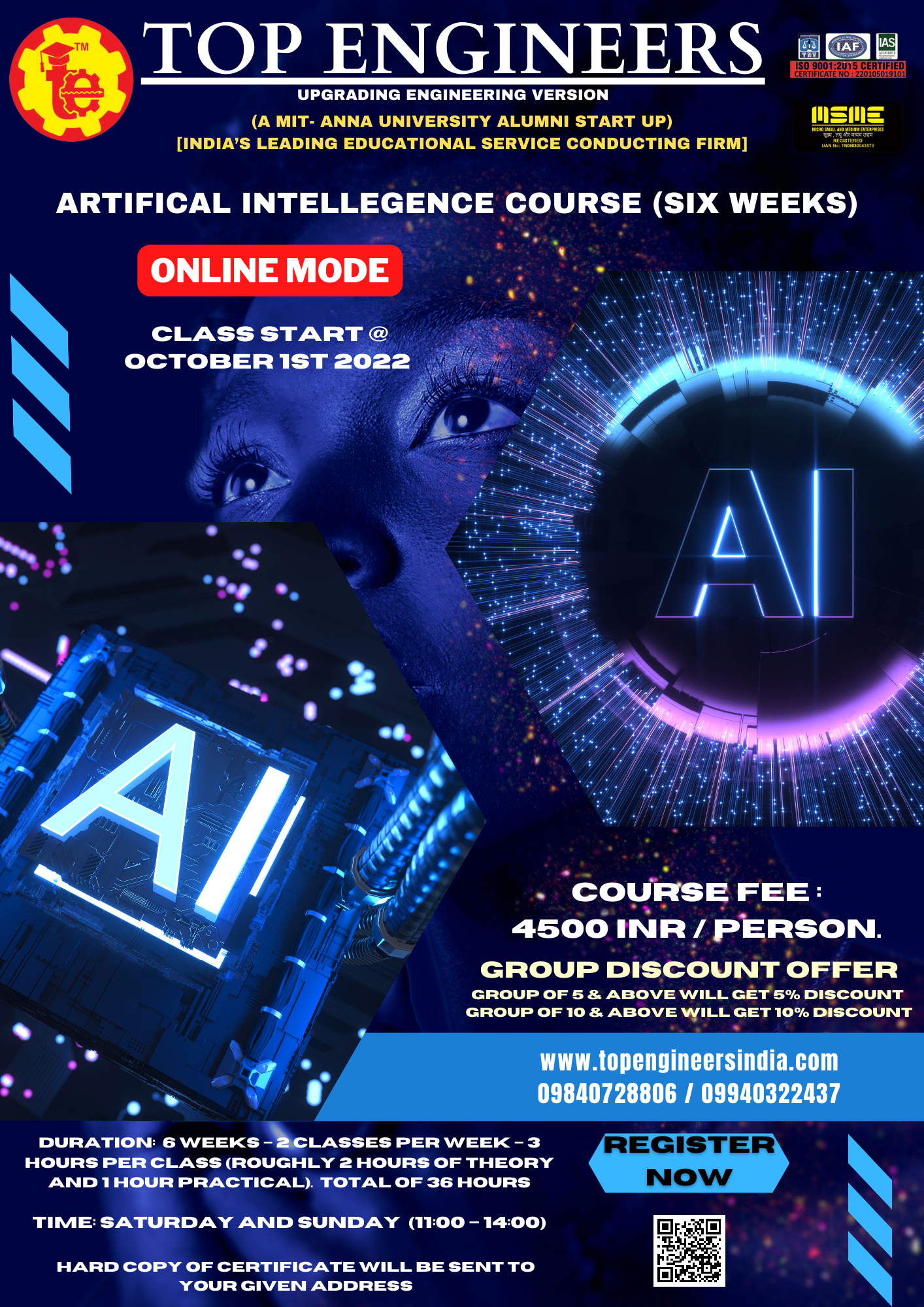 Event Scheduled on:
Starts from October 1st 2022
Time:
Saturday and Sunday 11:00 – 14:00
Google Registration Form Link:
Registration Fees:
INR 4500 INR/- per person (India) (including GST)
$100 USD (For other countries)
Group Discount Offer:
Group of 5 & above will get 5% Discount
Group of 10 & above will get 10% Discount
HARD COPY OF CERTIFICATE WILL BE SENT TO YOUR GIVEN ADDRESS
AGENDA
(Tentative. Might change at the end)
Week 1: Introduction
Day 1: Introduction to AI, Data, Data analysis, ML/DL.
Day 2: World of Data.
Week 2: Data and Features
Day 1: Data structures, Data representation, Feature identification.
Day 2: Statistics and probability Theory.
Week 3: Pattern Recognition
Day 1: Classifiers, Nearest neighbors, Regressors.
Day 2: SVM, SVR
Week 4: Pattern Analysis
Day 1: Density Estimation, Clustering, Random Forest
Day 2: GMM, PCA, High Dim spaces, HMM
Week 5: Deep Learning – A Introduction.
Day 1: Introduction to MLP, Losses, Activations and optimizers
Day 2: Back propagation, Fully connected Networks, CNN
Week 6: Deep Learning – Advanced topics
Day 1: ResNets, MobileNets, RNNs and LSTMs
Day 2: Transformer models and recap.
Apart from the content, few exercise sheets will be provided and a feedback on the work will be given for those who submit the solutions.​
ONLINE MODE
DURATION:  6 weeks – 2 classes per week – 3 hours per class (Roughly 2 hours of theory and 1 hour practical).  Total of 36 hours
CLASS START: October 1st 2022
Sorry! Registration is not available for this event, please contact us for more details.